who we are
We are Action for Refugee Life (AReL), a refugee-led social impact organization founded in 2022 in Kakuma refugee camp striving to build a path to a sustainable and self-reliant future for the refugee community.
AReL provides the necessary tools, resources, and support to refugees at the individual, household, and community levels, with the aim of capacitating them to achieve economic and social self-sufficiency. This will enable them to meet essential needs in a sustainable and dignified manner.
Action for Refugee Life (AReL) offers a range of on-campus digital training courses that focus on skill enhancement, job market readiness, mentorship, postgraduation support, and entrepreneurship assistance. The organization's comprehensive program guides students from enrollment to job placement. This includes diverse digital and technical courses tailored to market demands, thorough orientation, practical training enriched by a global industry-focused professional network, and simulated real-world scenarios. The organization supports graduates transitioning into the workplace, offering assistance through designated ambassadors. Moreover, AReL fosters self-sufficiency by promoting entrepreneurial endeavors within the refugee community.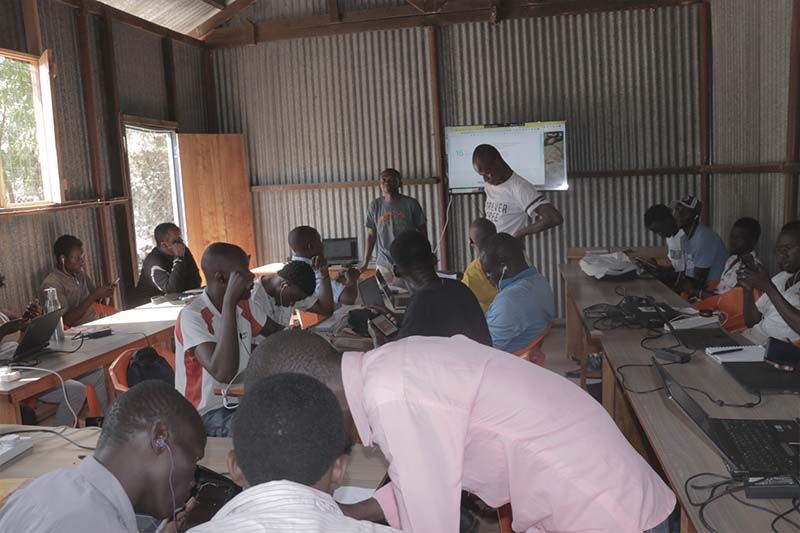 About Kakuma
Kakuma Camp was established in Turkana County, one of the poorest counties in Kenya, in 1992. The camp is located in a semi-arid region in northwest Kenya.
The host community in the area is largely made up of Turkana residents who are pastoralists and lead semi-nomadic lifestyles. These residents live in small villages without access to basic amenities such as running water or electricity. As of December 30th, 2022, the Kakuma camp and the nearby Kalobeyei settlement have a combined population of 248,929 refugees.
The majority of the refugees in the camp are from South Sudan, Sudan, Somalia, the Democratic Republic of Congo, Burundi, Ethiopia, and Uganda. These individuals fled their home countries due to ongoing conflicts that have lasted for decades.
Our Vision
To develop a community of refugees that will be financially stable to build their future life and create their own destinies.
Our Mission
To empower refugees to be able to create a viable, profitable, sustainable, and fair living that will position them as actors in developing a more equitable and healthier society in the refugee camp.
Our Goal
To provide refugees with a learning platform that will equip them with digital and business skills to be able to work remotely or build their own businesses.
Problem Statements
Shedding light on critical issues spanning healthcare, education, basic services, economy, environmental planning, sanitation, camp permanency, and aid dependency, that impact the lives of displaced individuals.
Gender and Cultural Norms

Infrastructure Limitations

Potential Employer Concerns
Healthcare
Limited access to comprehensive, quality healthcare services in refugee camps severely hampers the overall well-being of the residents and exacerbates the risk of widespread health crises.
Education
Inadequate educational opportunities and resources in refugee camps hinder growth and the development of skills essential for refugees to secure a better future and become self-reliant.
Services
The lack of basic utilities, such as reliable electricity and power supply, within refugee camps restricts the ability of refugees to engage in productive activities, and hampers the overall quality of life.
Economy
The limited opportunities for economic engagement within and around refugee camps keep residents in a continuous cycle of poverty, further stalling their progress towards economic self-reliance.
City Planning
The lack of effective city planning within refugee camps exacerbates existing living challenges, contributing to overcrowding, poor sanitation, environmental hazards, and limited access to services.
Environmental Challenges
Regular occurrences of flooding due to poor environmental planning pose significant threats to life and property within refugee camps, disrupting everyday activities and heightening the vulnerability of residents.
Sanitation
Poor sanitation conditions in refugee camps significantly contribute to health risks and disease outbreaks, undermining residents' quality of life and posing serious public health challenges.
Camp Permanency
The originally temporary refugee camps have now existed for decades, resulting in several generations being born and raised in these environments. This has established a cycle of permanency, severely limiting the residents' opportunities for socio-economic advancement and integration into broader society.
Aid Dependency
The predominant reliance on unpredictable and often insufficient aid from humanitarian organizations has led to a chronic state of insecurity and vulnerability among refugees, obstructing their progress towards economic self-reliance and societal autonomy.
Documentation Challenges
The complexity of acquiring and renewing refugee identification, obtaining movement passes, business licenses, and work permits presents significant hurdles for refugees. These documentation challenges obstruct their legal and social integration and limit their opportunities for economic participation and mobility.
Access to Finance
Refugees face substantial barriers to financial inclusion due to rigid know-your-customer (KYC) requirements and difficulties surrounding refugee documentation. These barriers restrict refugees' access to essential financial services from banks and micro-finance institutions, thereby confining their economic progress and undermining their ability to achieve financial independence.
Skills Supply-Demand Gap
A mismatch between the resident skills within the camp and actual market demand perpetuates a cycle of underemployment among refugees. The saturation of certain skills against the backdrop of inadequate demand in the job market leads to wasted potential and continues to stifle economic growth and self-sufficiency within the refugee community.
Gender and Cultural Norms
Existing gender and cultural biases within the refugee community often disproportionately burden women with familial responsibilities. This negatively impacts their opportunities for education and entrepreneurship, hindering their socio-economic progress and limiting their potential for self-reliance. This issue not only creates gender disparities but also perpetuates a cycle of poverty and dependency within refugee families.
Mobility Constraints
Despite recent legislative shifts, the residual impact of legacy encampment policies continues to limit refugees' mobility and hinders the effective movement and distribution of goods, services, and resources. While digital economy options offer partial solutions, considerable work remains to ensure physical mobility, a key to bolstering refugees' economic participation and self-sufficiency.
Infrastructure Limitations
The distant location of Kakuma camps from Nairobi poses serious challenges to acquiring basic infrastructure like computers and stable internet connectivity, making digital work difficult for the refugees.
Potential Employer Concerns
Private sector employers express concerns over the return on investment in training refugees, indicating the need for refugees to possess basic digital skills and reliable access to digital devices. The challenge of providing specialized on-the-job training is also significant.
Leadership Team
Project Management Team

Chioma Chimezie

Martha Ali
Martha Ali is passionate about creating positive economic change for youth and women in the refugee community through her role as Project Management at AReL. With a Bachelor's degree in Biotechnology, her knowledge of science and technology makes her a valuable addition to the team. With expertise in digital marketing and entrepreneurship Martha manages projects that focus on promoting financial independence.

Wanjiku Magdalene
Magdaline Wanjiku Waithira is a Kenyan Lawyer, researcher and Digital Inclusion advocate. She has wide-ranging experience in legal compliance, strategic planning, stakeholder engagement, and risk management. Her commitment to social impact and her ability to blend her legal expertise with project management skills drive her to effect lasting positive transformations within the organization.